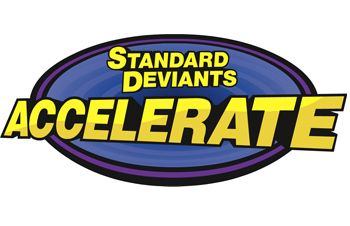 My son really enjoys media type learning, so we were happy to give
Standard Deviants Accelerate
a try for review. We used the Arithmetic course from their
Homeschool Courses
.
Most of the courses are designed for Middle and High Schoolers. However, there are two courses that are for Elementary. Arithmetic is for 3rd grade+ and Fundamental Math is for 4th grade+. Just for fun (since I have a 3rd grader) we also briefly checked our their US History (9th grade+) and Earth Science courses (6th grade+).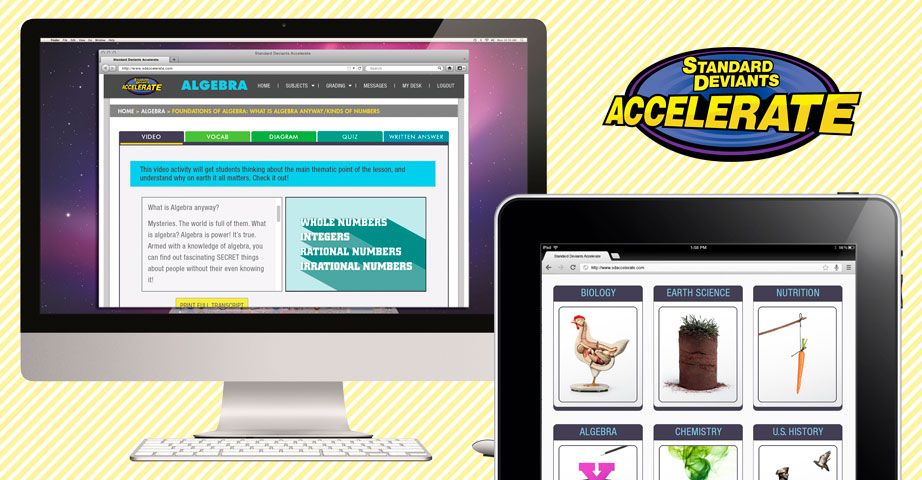 My 8 year old son used the Arithmetic course program 3-4 times a week as a supplement to his regular math program. The course is taught via video recording. In the video our college age youth who are discussing the topic in an interesting and fun fashion. They are sometimes a bit goofy, but they are definitely an attempt to make it interesting and appealing to the audience.
The first Math lesson is about whole numbers, they use the example of a pizza to explain whole numbers. There are cartoon type graphics in addition to the real people in the video. Each video also has a full transcript with it, if you care to read along with the video (you can also print the transcript).
The next tab after the video is Vocab. There is a list of words that were used in the video, you can click and hear the word and the definition read out loud. The next tab is Diagram. This tab is an application lesson (bottom right corner in the pictures below). You click and drag the answers to where they belong. After that is the Quiz (bottom left below). If you get one wrong on the quiz it highlights and a SEE VIDEO button pops up. When you click it it shows that part of the video that pertains to that question. The last tab is Written Answer; it contains questions that are long answer. These are to be answered on paper and then as the teacher you grade and fill in that part of the grade sheet. We did not do these questions, they were not on level with my son. They used really big words, that my son didn't really understand, and his writing is not on level with those questions. This part of the program I feel is higher than a 3rd grade level.
My son said he enjoyed the videos, but he felt like after watching them, then doing the quiz he didn't feel like what was on the quiz was what he watched. I've looked at the videos and the information is there. It is a fairly fast paced video. He didn't pass very many of the quizzes, these are not able to be redone either (though they do have that video button I mentioned to review the correct answer). I feel that for math this course just was not a good match for my son's learning style. Unfortunately they ONLY course they have for this age group is this course.
I think he would have had an easier time to retain the information if during the video there were opportunities for him to apply the knowledge as he received it, as opposed to giving him all the information at once and then applying that knowledge at the end. Since the majority of these courses are for older children (middle and high school), the are using a format that is more geared towards that age group; even in this 3rd grade course.
I mentioned that we checked over the US History and Earth Science courses as well. My son enjoyed those videos, but even more so was unable to retain the information (which was understandable as these courses are designed for much older children).
Even though this course did not really work for my son, I think it's a great option for older kids! Particularly those that are auditory learners. Even though there are videos (visual)…you really are only seeing people talking, with some occasional graphics. If your child is a visual learning, I recommend listening while reading along with the transcript. Taking notes would be a good idea as well. The videos are only about 11min, but there is a lot of information jam packed into that time frame.
Another issue we had was keeping track of which lessons were already completed. When you click on the course an outline pops up, then you click on the chapter that you are to work on; however, there is no check mark or anything to show which chapters you already completed. This means that you basically have to remember which one you did prior to starting a new one. This makes it easy to accidently skip lessons (especially for a 3rd grader).
From the parent page it's fairly easy to navigate and find grades, red flags appear when scores are not to standard, you can input grades for hand written assignments (using a rubric).
SDA has courses for 3rd grade through High School, including AP Test Prep Courses. Each course can be purchased for use by one student for $99 for a year, or $24.95 per month. AP courses are available for one student for $14.95 per month.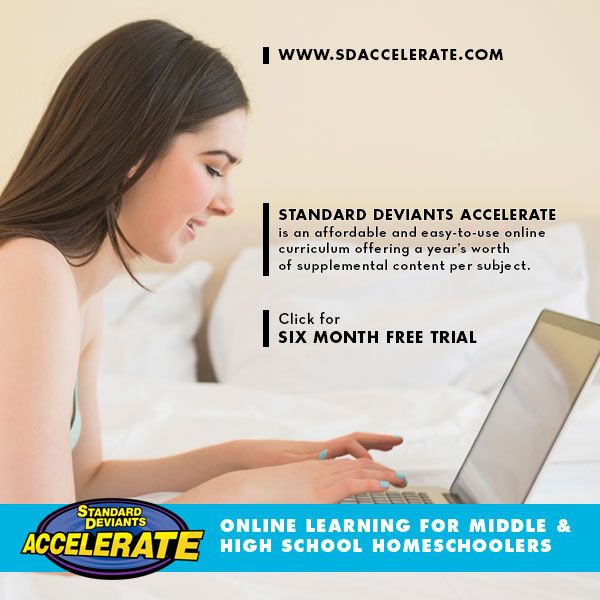 Standard Deviants Accelerate on Social Media
Facebook:
https://www.facebook.com/SDAccelerate
Twitter:
https://twitter.com/SDAccelerate
Pinterest:
http://www.pinterest.com/SDAccelerate/
Google+:
www.google.com/+Sdaccelerate