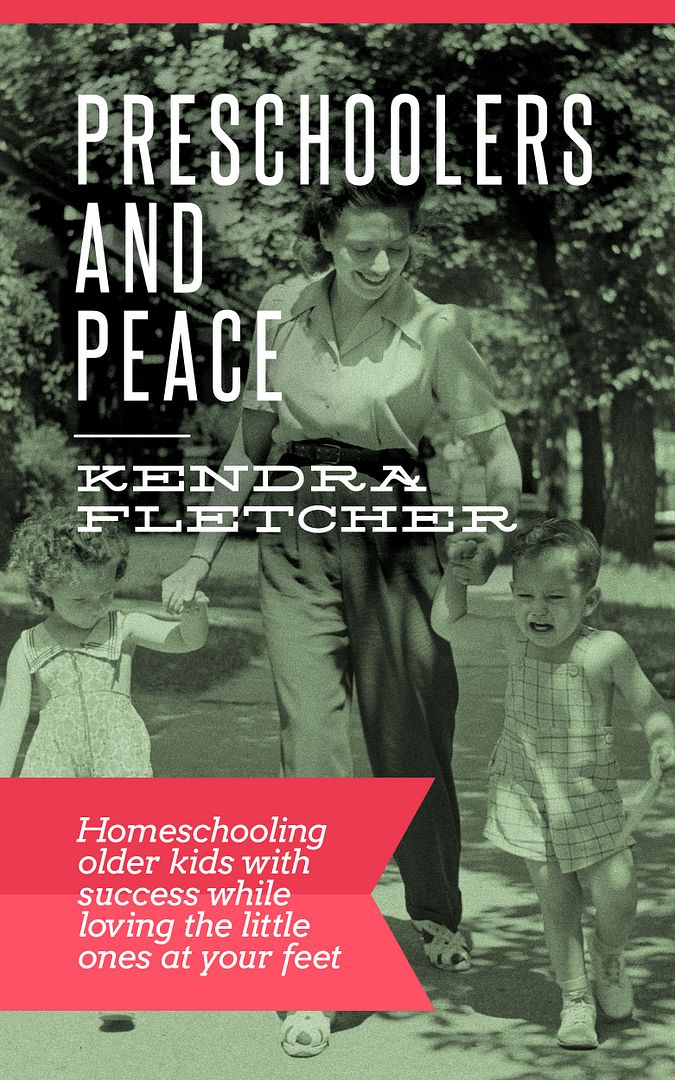 For those of you with little ones that aren't quite sure how to find that balance or what to do with them during 'school'…check out the book we just read,
Preschoolers and Peace: Homeschooling older kids with success while loving the little ones at your feet
(
e-book
) BY
Preschoolers and Peace
This book takes a Christian perspective to help you in homeschooling. The first most important key to successful homeschooling is preparation…"Preparing your heart to hear the Holy Spirit is the most important preparation you can make." Prayer is the number one way to start your day! (And I have found the truth in this!).
Kendra is a successful homeschooling mom of 8 children, with one recent college graduate and another on their way! This book has lots of really great advice!
She recommends having a schedule, but the most important thing about this schedule is that she suggests it as an ideal. She stressed that it is still important to remain flexible and to know when to change it and/or when to toss it! This is something that I struggle with, even though I KNOW that flexibility is so important, I still struggle with finding a balance between schedules and flexibility almost daily! So I really valued this section of the book!
Circle Time is another thing that we did religiously with all the kids in the past, but has fallen to the wayside since the move. I would like to get the little ones roped back in, and have been able to for a bit since reading the book). We now have everyone together for prayer and scripture. Our current set up is not as ideal as the kitchen table was at our old house. I'm still trying to figure something out for that. BUT, this book was a great reminder to me of how well it worked in the past and has me working towards getting back to that place!
The book also contains a large list of suggestions for keeping the little ones busy during 'school time'. She discusses routines, preschool learning, chores, activities, etc… all for the little ones in our homes (babies –5yrs old). The book also gives suggestions for lightening your load as a mom, (divide and conquer per se). Her suggestions are also divided up for those that have mostly small children and those that have older children with smaller children.
Honestly I found that a large bit of what she suggested we are already doing. But it was a great reminder to keep it up, or to put back a few things I have let slide over time. There was a lot of great suggestions here too that I do not do, and have started to implement or plan to implement. Also, many of the things that we are doing now that are working have come through trial and error…wish I had this book a few years ago!
The book is a really quick read, but filled with lots of valuable, applicable advice to those of us with small children who are trying to find that balance. Every family is different, so not everything she suggests may work…BUT, I definitely feel her advice and expertise is solid and worth a shot!
I recommend this book to any homeschool mom with little ones (whether you have older ones as well or not!).
This is an ebook and is available for $2.99.
Kendra also has another book (which I have previously reviewed)
Circle Time: Plan the Best Part of Your Day
Find them online:
Facebook:
https://www.facebook.com/PreschoolersandPeace
Twitter:
https://twitter.com/KendraEFletcher
Pinterest:
http://www.pinterest.com/kenj/
Google+:
https://plus.google.com/+KendraFletcher/posts
You Tube:
https://www.youtube.com/user/preschoolersandpeace