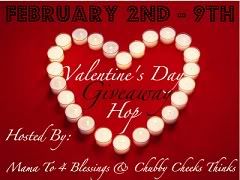 Mama to 4 Blessings
and
Chubby Cheeks Thinks
are teaming up to bring you the Valentine's Day Giveaway Hop! With 73
bloggers participating there will be a lot of great Valentine's giveaways! This is the perfect way to get something nice for yourself, your kids, or that someone special in your life. Valentine's Day is another great holiday of giving so we are all going to have a giveaway of at least $25 in prizes per winner and that is just the minimum. Some blogs will have more!
I'm helping out my SIL by hosting a 31 party! If you are not familiar with their items, they have GREAT bags, and are great for helping you get organized at home and on the go!
Check out their selection
online
(a new catalog was JUST released)!!
I am a new customer and have a few of their products, that I just received early last month. I love them already. I use the square utility tote to take all many things I need to teach my lessons for Nursery on Sunday's. I love the about the town blanket, for those picnics in the park or at the beach. I have a large utility tote, that's great for packing the kids clothes, diapers and even the booster seat, for an easy drop off at the babysitter's house. The all-in-one utility fits my CTMH stamp packs, and I have one between my front seats holding tissues, water bottles, sun screen and other things that I want to keep at hand. There are many to choose from, lots of prints and lots of uses!
You know one of your New Year's Resolutions was to 'Get Organized', Thirty-one can help you out!
Items ordered online will ship when the show closes, I'm aiming to close my show on Feb 10th
BUT THE BEST PART IS - My SIL has graciously offered to do a giveaway as well!
So
you can win one Organizing Utility Tote
(pictured above, print BROWN PIN DOTS).
Don't forget to check out my other giveaways listed at the TOP LEFT sidebar!!
a Rafflecopter giveaway