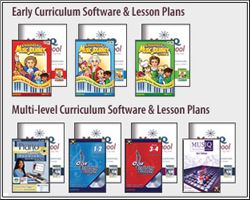 This review is LONG overdue, it was meant to be part of the TOS Reviews we did some time ago, but there was some shipping problems with my keyboard (being in Hawaii and all, so I was removed from the review group), then with morning sickness and all that other jazz, it got placed on the back burner. But – FINALLY I'm writing it!
It has been a great opportunity to do this review for
Adventus
of their
MusIQ HomeSchool
keyboard/piano program.
MusIQ HomeSchool is an online computer program for teaching/learning piano. My oldest (age 7) has really been enjoying the program. My 4 year old has dabbled in it off and on, but finds it a little too difficult for him at this time and gets a bit frustrated. We are using the Children's Music Journey Volume 1.
Upon receiving the program there were some quirks in getting it installed, but customer service was very helpful and helped to work out all the kinks, some patience was required, but all in all everything was worked out rather smoothly and quickly.
The keyboard I am using is a M-AUDIO/KeyStudio 49 Key MIDI USB Keyboard, and it has some of it's own quirks as well (separate from the software),which frustrated and discouraged me in the beginning. Things like you can't unplug the keyboard unless you turn off the computer, and then the computer must be turned off to plug it back in. There are a few things that are software specific as well, as far as setting the keyboard up in the software, but customer service, again, was very helpful.
The software not only instructs for playing the piano, but also introduces famous composers. The lessons are short and to the point, then there is a review lesson, and games to reinforce the lessons learned.
My son LOVES the games…there are a few that are his favorite and at times he has BEGGED to be able to get on the computer to do his lessons (to play the games).
The manuals also include lessons for reinforcement and review of items learned in each lesson. It also includes information to enhance the lessons, such as composer information. Using these items helps you get the most out of each lesson.
The MusIQ Homeschool program is ages 4-18, Beginner to Intermediate. You can subscribe monthly for $10.95 a month (MIDI Keyboard is required) which includes
unlimited, full-feature access to all the MusIQ HomeSchool software titles (over $450 retail value)
a discount on MIDI piano keyboards
*The Monthly fee entitles the subscriber to download and use the MusIQ HomeSchool software. A valid payment method and an internet connection are required.
Other one time purchase fee options are available, see the
online STORE
for more details and pricing information.
A monthly subscription is a great way to try out the program; to see how your family likes it and it sure beats the cost of piano lessons! It's much more convenient as well. You can do the lessons in your own home, on your own time.
See what all the TOS Review Crew had to say about it
HERE
(This review is NOT part of the official TOS Review for this product).
Disclaimer: I received this product for free, and the keyboard at a discount rate in exchange for my honest review.