And also for Bellow's- which is our favorite beach to go to and Boogie Boarding!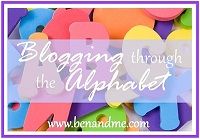 Nothing like the beach in Hawaii!! I have to say this is one thing I think I'll miss the most when we make our way back to the mainland. The saddest thing is that the two youngest are just now getting more comfortable in the water. My 4yo is 'boogie boarding' and 'body surfing' and my 2yo has finally decided to go into the water!
The best part is heading to the beach when most of our friends and family are breaking out the fall and winter gear! Last year we camped at the beach post Thanksgiving, and went swimming as well on Christmas Eve!!
We planted some banana trees in our yard about a year ago and got to reap our first harvest this year! The kids had a ton of fun chopping down the Apple Bananas!
Just another fun thing thing about Hawaii!!