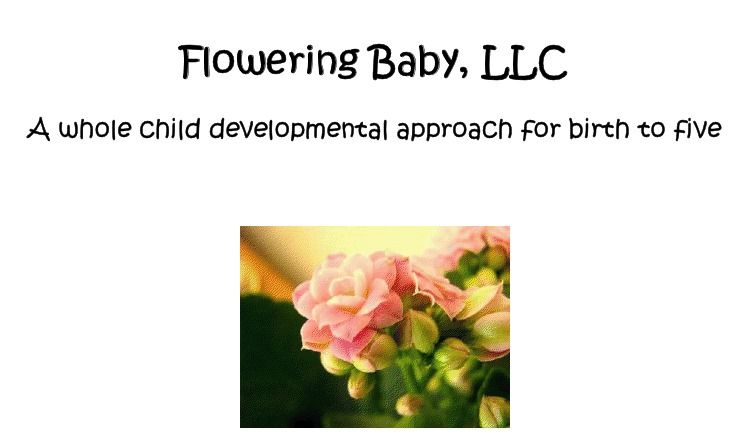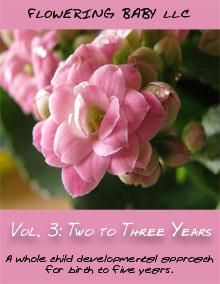 I had the opportunity to try out Flowering Baby Vol 3: Two to Three Years Curriculum with my 2 year old.
Flowering Baby is a curriculum tailored to milestones of specific age groups. It's a very simple curriculum, in that it does not take a lot of preparation, materials or time. This curriculum would be perfect for someone who wants to work on developing age appropriate skills for their child, but they are not quite sure what to do or where to start.
Each lesson takes about 15-20 minutes to complete for the 2-3 age group; which is perfect for the attention span of this age. You could even spread the activities out throughout the day, dividing it into 5min (or so) increments.
The daily activities consist mostly of:
Story
Language
Math
Music
Color
Song/Rhyme
Shape
and occasionally others like Art, Gross Motor, Fine Motor, etc.
You can see an example of daily activities by visiting the website.

I have to be honest, this particular curriculum was TOO SIMPLE for us, especially since I already have a program in play that we all enjoy and is much more involved.
HOWEVER, I would definitely recommend this curriculum for someone who wants a few ideas of what to do with their 2-3yo on a daily basis and wants to keep it short and simple. This curriculum would be perfect for that! There is little to no prep needed, materials are easy to get, and the lessons are laid out in a daily format. Step by Step instructions – piece of cake!

This curriculum would also be great for those who do not plan to homeschool past Preschool, but want to engage their children in daily learning activities. This is not just a "HOMESCHOOLING" curriculum!
Flowering Baby offers curriculum starting with Birth through age 5, and the complexity and time needed to complete the daily tasks increases with age. The 3-4yo and 4-5yo curriculums have the daily activities and choices of monthly themed activities to do also.
I love the emphasis of READING books for each age level and the books suggested are all GREAT books (many of our favorites)! Reading to your child from a very young age is so important and has so many benefits! I don't think many people realize what an impact reading to your infant has in development!
For families with more than one child, you could easily involve all children ages 5 and under in activities with just a little bit of tweaking, or by spending a short amount of one-on-one time with each child for their 'lesson'. Children will really enjoy the one-on-one time as well!
The 2 to 3 year old program can be purchased for $30, or you can purchase all 5 programs for $132. (The Birth to 1 and 1 to 2 year old programs are also $30 each, the 3 to 4 and 4 to 5 year old programs are $38 each)
You can get 10% off with coupon code "Blog10"
Here are some pictures of my 2yo engaged in a few of the lessons we did with the 2-3yo program!

Disclaimer: I received a free copy of this product in exchange for my honest review. I was not required to write a positive review nor was I compensated in any other way. All opinions I have expressed are my own or those of my family. I am disclosing this in accordance with the FTC Regulations.