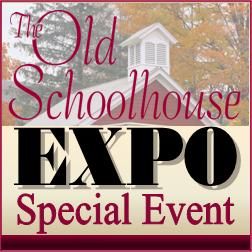 The days are getting nearer for the Schoolhouse Expo!
Congratulations to Fibia who won the FREE Ticket to 'attend' the expo! (you should be receiving more information on how to register in the next week).
For those that are just turning in – The Schoolhouse Expo is a Virtual Event – it enables us to attend and gain knowledge from homeschool speakers and veterans, from the comfort of our own home! No travel costs!
The cost to attend is $24, which includes access to conference recordings (in case you miss anything).
The event takes place from 1pm to 8pm EST, August 19-23rd.
For more detailed information visit the FAQ Page
Speakers I'm looking most forward to?

Being a mom of 3 boys, I think I'll find this talk rather useful! Andrew Pudewa is the founder, principal speaker and director of the Institute for Excellence in Writing. He will be teaching specific ways to find and create relevancy for children, even when they have no apparent interest.

Kim's topic is "The Lazy Student: What's a Mom to Do? Good question, right? Kim began homeschooling in 1989 and is now an empty nester. She will be helping us discover the similarities and differences between procrastination and laziness, and offering practical advice for helping our children set goals and deadlines.

Terri with be tackling the topic "Facing the Giant…Homeschooling through High School". Though High School is far off for me (my oldest is only 7) it is still something I think about, and want to be prepared for. Terri will share her wealth of knowledge on the subject, as she has graduated 2 children, and has 4 more to go!
These 3 are just a small sampling of the speakers at the Expo! Come bask in their knowledge! To register click HERE
Hope to 'see' you there!
Disclaimer: This is a promotional post, I am receiving FREE entrance to the EXPO as payment for this post.