Our book this month:
Activities we did:
Animal Babies Matching Puzzle
We have a set of animal moms and babies…..the kids love matching them together! We got our set from Oriental Trading some time ago. They have animal toobs of adults and babies that you can buy separately from amazon.
Sort the animals by habitat….do they live on a farm, in the zoo, etc…
Printable: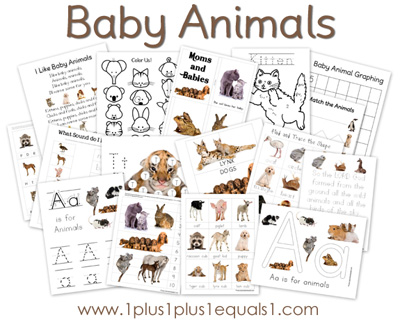 You can find these HERE
Lots of other fun Baby Animal activities are on my Pinterest page.
For a field trip, we went to the pet store and played with the puppies! (WARNING: so hard to go and not bring one home)
It's also a great time to talk about HUMAN Babies – you could wash baby dolls, feed them bottles, change their diapers, etc… Great activities/lesson to prepare for a new baby in the home!
Check out these other great blogs and what they did this month for ANIMALS:
Enchanted Homeschooling Mom - 3 Dinosaurs - Monsters Ed - Chestnut Grove Academy - Growing in God's Grace - Royal Little Lambs - Life with Moore Babies -Teach Beside Me - The Usual Mayhem - Fantastic Fun and Learning - Kathys Cluttered Mind - Toddler Approved - Growing Book by Book - Adventures in Mommydom - Edventures with Kids - Learning & Growing the Piwi way - A Gluten Free Journey - Preschool Powol Packets - To The Moon and Back - Our Craft ~N~ Things - Fresh Farm Adventures - Are We There Yet? - Afterschool for Smarty Pants
Got some great animal activities? Link up below… (then check out the giveaway below that!)
GIVEAWAY!! We just got this book for my son for his 3rd birthday – he LOVES animals! It's a great book! Enter on the Rafflecopter form below and GOOD LUCK!!
More Baby Animal Books: