We had the privilege of reviewing
Logic of English
,
Foundations A
Manuscript and the
Phonograms App
.
This program is recommended for ages 4-7, I used it with my 4 year old.
Foundations is an all-in-one Phonics, Handwriting, Spelling, and Reading program with 4 levels, beginning with the non-reader (Level A). This is a multi-sensory program, which would be great for all types of learners. It can be adapted to all types of learners.
I used this program a few times a week with my son.
The teacher's manual is very easy to follow, step by step instructions. The beginning of each lesson gives you break down of what will be covered in the lesson and what materials are needed for the lesson. Lessons are divided into 2 parts (in Manual A) Phonemic Awareness and Handwriting. You can take as much time as you feel is needed on each lesson, based on your child's needs and abilities.
My son enjoyed the Phonemic Awareness portion of the lessons, but is not really ready for handwriting at this time. Therefore we did not spend as much time on this portion of the lessons, and did more air writing, then whiteboard writing. We did however, utilize the tactile cards, which are a great addition to this curriculum.
The Phonemic Awareness part of the lesson was very beneficial for my son, especially since he is currently in speech therapy due to difficulty with enunciation. The exercises in voiced and unvoiced, and nasal sounds was very helpful to him in forming the sounds he has difficulty with.
Letters were not introduced in alphabetical order, which is an added bonus (I have seen other programs that do this), and they did not start with vowels (which is another thing I've seen in other programs). I appreciated these two factors, because of a strong educational beliefs that the alphabet should be introduced our of sequence. Also, my son has more difficulty with consonants, so I like to focus on those.
Aside from my son not being ready for the handwriting portion of this program (he has difficulty holding writing utensils the correct way). I didn't care for the style or the order in which they introduced the letters. They started with strokes (some of which start at the bottom of the page) and they use the D'Nealian Style. I prefer Standard Block Print, and have always taught to start at the top of the page when forming letters. I did however agree with their use of Tactile Cards and the dry erase board. I also liked their use of 'air writing' when introducing strokes. These few factors are merely personal preferences. I wish they had a Standard Block Option, because I love how the curriculum is a 4 in 1.
He also enjoyed the Phonograms App. It was great practice for him to hear the sounds of the letters and reinforced the correct enunciation. The app is sort of in a quiz format, testing to see which phonograms they recognize. This type of format typically stresses my son out and he does not enjoy it; however, this was not the case. The app is pretty low key and non stressing inducing.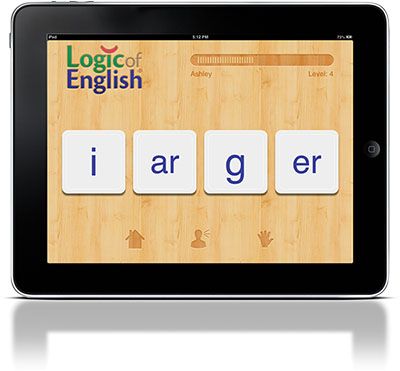 What I received for this review and their purchase prices:
Foundations A Teacher's Manual Level A ($38.00)
Manuscript Workbook Level A ($18.00)
Manuscript Workbook Level B ($18.00)
The Rhythm of Handwriting Manuscript Tactile Cards ($28.00)
Basic Phonogram Flash Cards ($18.00)
Blue Bookface Phonogram Game Cards ($10.00)
Red Manuscript Phonogram Game Cards ($10.00)
The Rhythm of Handwriting Manuscript Chart ($10.00)
Student Whiteboard ($12.00)
Phonograms App ($2.99)
Doodling Dragons is recommended in many lessons, however I did not receive this product. It is available for $15.00. I did not have a chance to use the Game Cards, they are not introduced until later lessons.
You can save money by purchasing items in a set, Manuals and Workbooks are also available in PDF format.
Overall, I feel this is a very worthwhile program, that is very adaptable to a wide variety of learners.