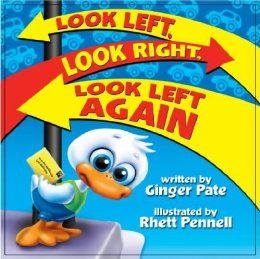 We are delighted to have had the opportunity to review the beautifully illustrated board book by
Greene Bark Press titled Look Left, Look Right, Look Left Again.
My children were automatically drawn to the beautiful illustrations and were wanting me to read this book the moment we received it. I read it several times over the review period, both by request and at my suggestion. Below is a picture I snagged of my husband reading it to my 4yo (at his request).
My 7yo has read it several times to himself as well, and has proudly announced that he is ready to cross the street by himself! (though we will have to practice that a bit more before I allow it).
The book details instructions on how to safely cross the street, it uses repetition and examples, along with the beautiful pictures. Always pointing out that you must Look Left, Look Right and then Look Left AGAIN! The mother duck practices with him many times before he is allowed to cross on his own to visit his Grandma.
It's a very cute and colorful story and a great way to introduce street crossing safety to young children. It would be a great addition to any safety unit, or just as a great read together book!
The book is recommended for ages 3-8 (though my 2yo enjoyed it as well) and is available for $8.50 at the Greene Bark Press online store.