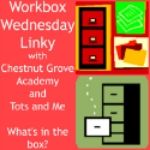 Welcome to Workbox Wednesday! If you use workboxes, tot trays, or anything similar, feel free to post a link to your blog post or a picture (pictures can be from facebook, but please make sure they are PUBLIC so we can see them, or use a host like photobucket.com to get a URL for your photo) that shows WHAT IS IN YOUR BOXES!
Please visit my co-host at Tots and Me
Another host is joining us in October!! So excited!
Visit others that link up, leave comments, follow, etc. The favors will be returned! Feel free to grab a button too, so others can find the link up and join in the fun!
I planned to have the next installment of our Preschool/Kinder Earth Science Unit up this week, but ran out of lamination, and with it being a short week for us it got moved to the back burner. So stay tuned for next week!