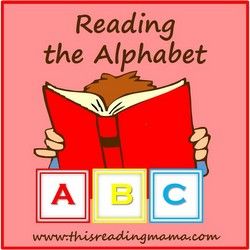 Reading the Alphabet
is a FREE reading curriculum designed by
This Reading Mama
. It can be purchased for $10, in an easier more compact downloadable program. (The FREE version has to be downloaded one letter at a time).
We have been using Reading the Alphabet with my 4yo. Honestly, I was not interested in this program for teaching reading, but for improving on speech. My 4yo is speech delayed, and has been receiving speech services off and on since he was 2.5yo. When I found this program I thought it would be a great way to focus on the letters that he has difficulty with. I have shown the program to his speech therapist; she was quite impressed with the program and has recommended it to several of her other students.
There are several consonants that my son struggles with annunciating when speaking. This program has allowed me to print off reading materials and activities to focus on those consonants. Most programs I have found focus on the vowel sounds, which are not a problem for Z. This program, focuses on a different consonant in each lesson. It has been perfect for his speech therapy, and has helped him make many strides in speech.
I highly recommend this program to others, for us it has 'killed two birds with one stone', we are working on reading and improving speech! There are many speech and reading programs available out there, and for $10 it is worth getting the program in the more easy to download batch.
Each lesson is based on one letter and one sight word. There are several activities (multi-sensory) for each lesson. I love that it's a hand on program. You can use which ever components of each lesson that meets the needs and interest of your child.
Disclaimer: I received the full downloadable product (worth $10) for FREE in order to do this review. This in no one affected my honest opinion of the product.