A Blog Hop designed to share 'FIELD TRIP' related Blog Posts
(does not have to be a 'home school field trip', can be any trip to any place with your children!)
with GUEST HOST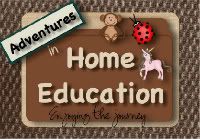 Michelle at Adventures in Home Education has a great blog! She is part of the TOS Homeschool Review Crew, she gives great reviews, and also hosts giveaways. She has a Workbox Wednesday Blog Hop, where you can link up all of the great things you put in your workboxes, get ideas from other workbox users, or find out what workboxes are all about!



Please visit her and give her a follow!
Now on to our field trip….
Well, it was canceled due to rain. Boo!!
But since Halloween just passed, I figured I'd post some pictures of our Trunk or Treat (or Trick or Trunk, as C calls it). Every year our church puts on a Trunk or Treat, and this was the first one we have attended here in Hawaii. The attendance was far beyond any that we have attended before. It started inside with some games, lead by the teenagers of the church (young men and women), then we headed out side for the trick or treating.
**NOTE: Before linking up please review guidelines HERE